Description
 800W LED Grow Light 14 Bars, good to replace 1500W HPS for high productivity
Dimmable 800W LED grow light is designed after deep research in Luxint lab. You need to be aware of the PPF, PPFD, and photon efficiency to make wise purchase selections so that you may spend your money on the best horticulture lighting system to achieve your cultivation and business goals.
However, one shouldn't base a purchase choice just on these three measures. Other factors that must be taken into account include form factor and coefficient of usage (CU).
 800W LED Grow Light Product Video:
800W LED Grow Light Description
The 14 bars 800W led grow light is one of our new designs for medical plants:
Foldable design for easy installation
Manual Dimming & Control Dimming
Timing Function
Full Spectrum LED Grow Light Bar for Indoor Plants, Vegetables, and Flowers.
Performs Extremely great in All Stages of Growth.
Get Higher Yields With Quality LEDs
Large lighting Coverage
High Efficiency and Low Heat
High Output led plants to grow light
Best led grow light for indoor Farm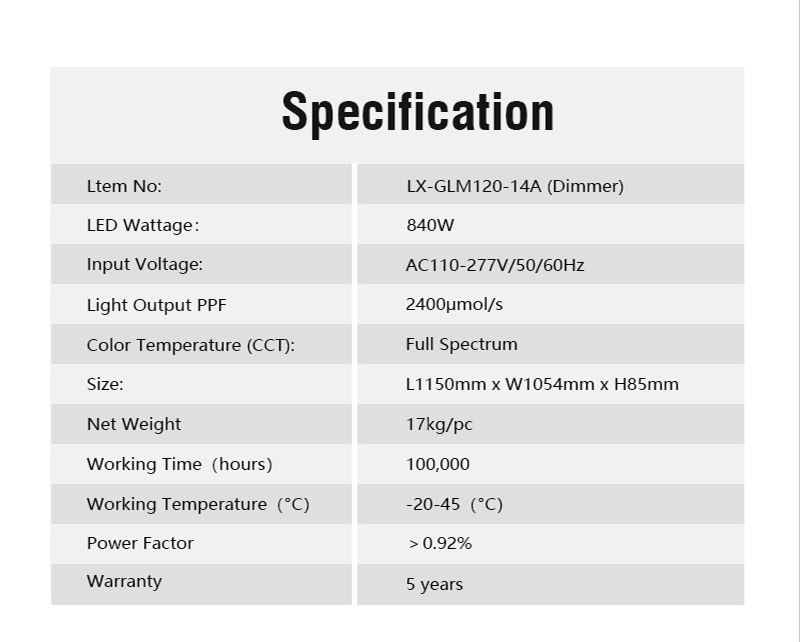 Research on 800W LED Grow Light
You have probably been inundated with a number of metrics that lighting manufacturers use to promote their goods if you have been looking into 800W Dimmable LED grow light horticulture systems for your plant development facility. Watts, lumens, LUX, foot candles, PAR, PPF, PPFD, and photon efficiency are a few terminologies and acronyms you could encounter.
All of these names have something to do with lighting, but only a handful can actually explain the key performance indicators of a horticulture lighting system. This article's goals are to clarify commonly held misconceptions, define these words and acronyms, and assist growers in determining which metrics apply to horticulture lighting systems and which ones do not.
The model, known as the photopic response curve, describes the sensitivity of the human eye under well-lit settings, and lumens are a unit of measurement based on this model. The bell-shaped photopic response curve demonstrates how green light is far more sensitive to humans than blue or red light.
For domestic and commercial lighting applications, LUX and foot candle metres quantify the intensity of 800W LED grow light (using lumens), with the main distinction between the two being the unit of space they are measured over. Even if you are measuring the same intensity of PAR, using LUX or foot candle metres to measure the light intensity of horticulture lighting systems will result in variable readings based on the spectrum of the light source.
The measuring distance from the light source (vertical and horizontal), the number of measurements included in the average, and the min/max ratio must all be disclosed by the manufacturer in order to guarantee that you are obtaining accurate PPFD readings across a specific growth region. For each of our lighting systems, Luxint consistently publishes the average PPFD over a specified growth area at a suggested mounting height.
800W LED Grow Light certificates
The takeaway is that PPF, PPFD, and photon efficiency are the correct measurements used by scientists and industry-leading horticulture lighting firms. All aspects need to be utilized in conjunction to identify the most appropriate systems depending on your cultivation and commercial goals. You won't be able to determine the system's genuine efficacy if a firm doesn't give you the right measurements for horticulture lighting, and they shouldn't be selling horticulture lighting systems in the first place.
Rutgers and Utah State University have confirmed that Luxint Bioengineering is one of the leaders in photosynthetic photon efficiency and consistently reports these values in the product documentation. Get detailed information about dimmable LED grow light from our research articles.
Feel Free to contact us for any inquiries about the plant grow lights. Increase your productivity of growth production by using Luxint Plant dimmable LED grow light.